Tarin Rice
Not much has ever distracted Tarin Rice from the performance horse industry. Tarin has shown horses since he was a pre-teen and has worked at expanding his professional footprint since leaving the non-pro ranks in 2009. In 2012 Tarin was the co-champion of the NCHA Futurity on He Bea Cat who is owned by Jim Crawford. His National Cutting Horse Association lifetime earnings stand at just over $1 Million as of August 2014. His 2014 NCHA Summer Spectacular Open Derby win on Miss Callie Cat, put him over a million in earnings, and earned him a spot in the NCHA Hall Of Fame.
2013 was a new beginng for Tarin. He moved to Centerville, TX along with his wife Katie, and joined the Center Ranch team. Prior to that Tarin had trained alongside his father, Boyd Rice, at the family ranch in Spearman, Texas. Boyd comes from a family of horsemen - his father, Sonny, uncles Raymond and Ronnie, along with his cousin, Tag, and brother, Matlock - all earn a living as cutting horse trainers. It was only natural for Tarin, his older brother Tatum (also a trainer) and little sister Trea to be raised horseback.
According to Tarin, the strongest influence on his horsemanship has come from his father. Although working with a close family member or friend can be trying for some, Tarin appreciates learning from Boyd. He also credits his cousin, Tag Rice, and a lot of the great horsemen he has been fortunate enough to be exposed to throughout his life.
"Dad reminds me how he wished he'd learned more from his dad when he was starting out," Tarin said. "I think, in the end, working together brings us all closer together."
Training horses provides an intriguing challenge for Tarin, who enjoys every aspect of his chosen career. The most challenging, and admittedly his favorite aspect, is preparing 3-year-olds for the NCHA Futurity in Fort Worth, Texas. "It's the biggest show of all of them," Rice acknowledged. "And it is the most challenging, which is probably why it's the most fun."
Rice has claimed NCHA Youth and Non-Pro Championships. He marked a personal milestone during the 2010 NCHA Futurity when he qualified two horses for the open semifinal round and earned a slot in his first NCHA Open Futurity finals. Two short years later he was able to surpass his previous best by becoming the 2012 NCHA Futurity co-champion along side his great uncle Ronnie Rice. Winning the 2012 NCHA Futurity was a great way to end his first year training on his own, on a horse he trained from start to finish.
As a youth, Tarin showed reined cow horses in addition to cutting, winning the coveted National Reined Cow Horse Association Junior Stock Horse Championship in 2003 and showed twice in the NRCHA Snaffle Bit Futurity as a non-pro. His NRCHA earnings are close to $25,000.
Since 2007, Rice has concentrated almost entirely on cutting horses. He does rope for fun, however, and has trained an occasional rope horse. Tarin recently won the NCHA Derby Open Gelding Championship riding Lenas Star War – his first championship on a horse he trained "from start to finish." In 2012 he and Katie purchased Lenas Star War and plan to show him in agend events classes.
"In the future I wouldn't mind getting into the show horse part of roping," Tarin said. "Maybe show at the AQHA World Show in roping, but right now it is just a hobby."
Tarin met his wife, the former Katie Adcock, when both were in their junior year of high school. At the age of 12, Katie moved from Oklahoma to Miami, Texas, with several generations of her ranching family. During school she competed in junior and high school rodeo events, mainly breakaway roping and running barrels.
Tarin and Katie married and became a team after she spent a year at college. She now helps in every facet of Tarin's training business in Centerville, TX. Helping around the barn and taking care of all the bookwork are just the bare basics of her job. She also cuts in the non-pro division and returns to the rodeo arena as time permits. In June of 2014 the couple welcomed their first child into the world. Charly Layne was born on June 19th, she weighed 7 lbs, 2 oz, and was 18 inches long.
"Katie enjoys the shows and lopes all my horses and takes care of everything at all the shows," Tarin informed. "She's my only help at the house too, plus she does all the business paperwork."
Media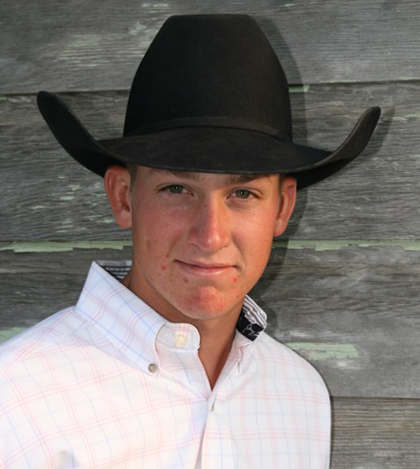 Tarin Rice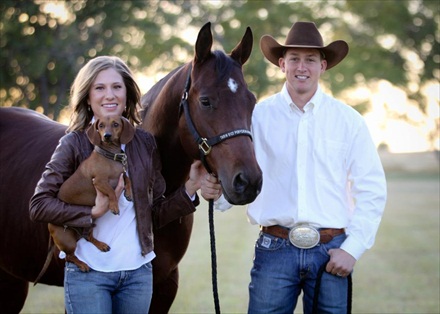 Tarin and Katie Rice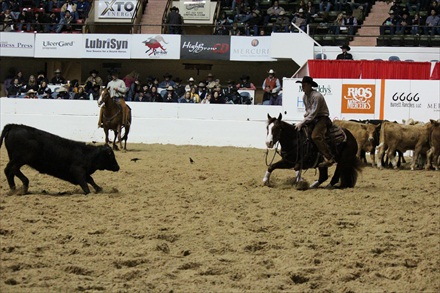 Tarin & He Bea Cat 2012 NCHA Futurity Co-Champions